"This is really good stuff. I definitely think that coaches would be interested in having this.  Just don't sell it to any of my competitors!" – T. Williams, Football Coach
What if I told you that a $14 investment would win YOUR TEAM  a football game in 2016?!
Would it be worth the small investment?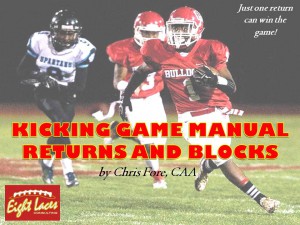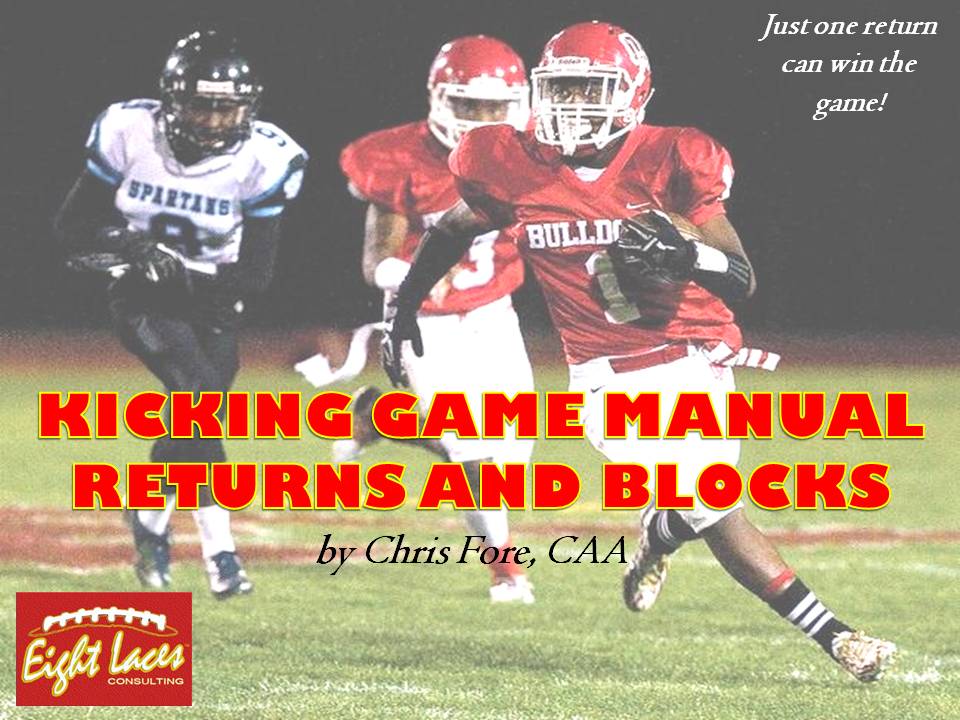 Let me share a story from the 2014 season where one of these returns helped us win a game!
We were playing the #1 team in San Bernardino County, San Gorgonio High School, on September 26, 2014.  (We weren't even in the top 10 at the time.)  We upset them.
What changed the game?  What changed all of the momentum?
How did we take the lead and never look back?
A punt return!
We had them on their 30 yard line, with 7 minutes left, a tied score.  I knew this play could turn the ball game around, and I wanted to block their punt, so at first I called for a PUNT BLOCK.
But I changed that to a punt return as I saw the punt team lining up.  And here is what happened (excerpt from local newspaper):
The Bulldogs and Spartans were tied at 10 with just over 7 minutes to play when San Gorgonio was forced to punt at its own 30.
Knight caught the punt and returned it 75 yards UNTOUCHED to give Oak Hills a 16-10 lead.
The scheme was run left. As soon as I saw the opening to go right, I cut back right and followed my team and the blocks," Knight said. "The blocks were wonderful. I credit my team all the way for that."
Here is the punt return we put in that very week!  It was a return right up the middle of the field.  And you will see on the video, that's what we did!  A man assignment return.  It worked! Watch the return here.

Our Punt Return team had the highest punt return average in the state of California in 2014!   Without a doubt, we had a very talented returner.  But we also created man return schemes each week to take advantage of what the opponent was giving us.
2014 Oak Hills Punt Return Stats
Highest Average (Faizon Knight) = 26.8 yards per return
Individual Average was: #10 in Nation; #1 in State of CA; #1 in Eastern Division; #1 in the league
2014 Oak Hills Kick Return Stats 
Team Average = 25.8 yards per return
#5 in State of CA; #3 in the Eastern Division; #1 in the Mojave River League
Check out a few of our best returns here:
Punt Return Featured as a #MPTopPLay
When I took over as the Special Teams Coach at Oak Hills in May of 2014, I tried hard to find some great punt returns online.  I had never coached Punt Return, my Defensive Coordinators always did.  I couldn't find any!
So, I've put together this KICKING GAME RETURNS AND BLOCKS MANUAL!
It features more than 60 pages with 10 Kick Returns, and 20 Punt Returns/Blocks.  
This product will be delivered via PDF AND Power Point as soon as you submit your order!
WHAT COACHES ARE SAYING ABOUT THIS MANUAL
"We have always ran the same old vanilla zone returns and this manual will help change things up a little and also give me some ideas since this is my first year." – J. Graham
"I think there are many coaches that would be interested in a manual like this. Especially new head coaches or new special teams coordinators at a high school. It also could be valuable as a supplemental tool for experienced coaches." L. Miller, Athletic Director and Football Coach
"Your idea is great.  It seems that you're intending something specific and to the point.  There has been helpful information on philosophy and organization of special teams, but always thin on strategy, tactics, and examples and nothing outside the box."  T. Bomar, Football Coach
"I think coaches would definitely be really interested in something like this, especially if you provide some highlights of do's and don'ts on a powerpoint."  – A. Ibarra, Football Coach