Sale!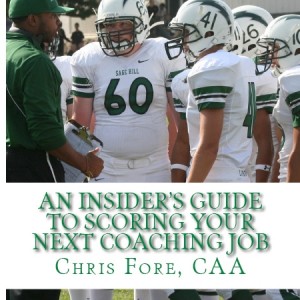 An Insider's Guide To Scoring Your Next Coaching Job (PDF)
Coach Fore has put together a manual of more than 1oo pages to help YOU land that next coaching gig of your dreams.  He uses his experience as an Athletic Director and Head Football Coach to weave together a great plan as you pursue the next job in the coaching world.  (Although written specifically for coaches, the principals of this manual apply to most job searches.)
This manual comes directly to you via a PDF file immediately after payment.
The fourteen chapters of this book are:
So You Want To Leave? Now What?
Where and How To Look For A Job
Hiring Coaches: One Of The Best Parts About Being An Athletic Director
I Want That Job: What Should I Send Them?  5 Keys To Reaching Out
5 Keys To Writing An Athletic Cover Letter
4 Pieces Of Advice About Your Resume
6 Things An Athletic Director Looks For On Your Resume
Your Letter of Recommendations Quiver
How To Know If You Are In A Sham Interview
Interview Questions To Expect
How To Shock The Interview Panel – Preparing Yourself For The Big Day
10 Interview Suggestions From A Former Superintendent
10 Things To Consider Before Taking A New Job
99 Questions To Ask To Get To Know Your Perspective School
The 3 BONUS chapters are:
3 Tips To Get Along Great With Your Athletic Director
A To Do List During Your First 30 Days As A Head Coach
Don't Take A Coaching Job Like This: One Coach's Experience