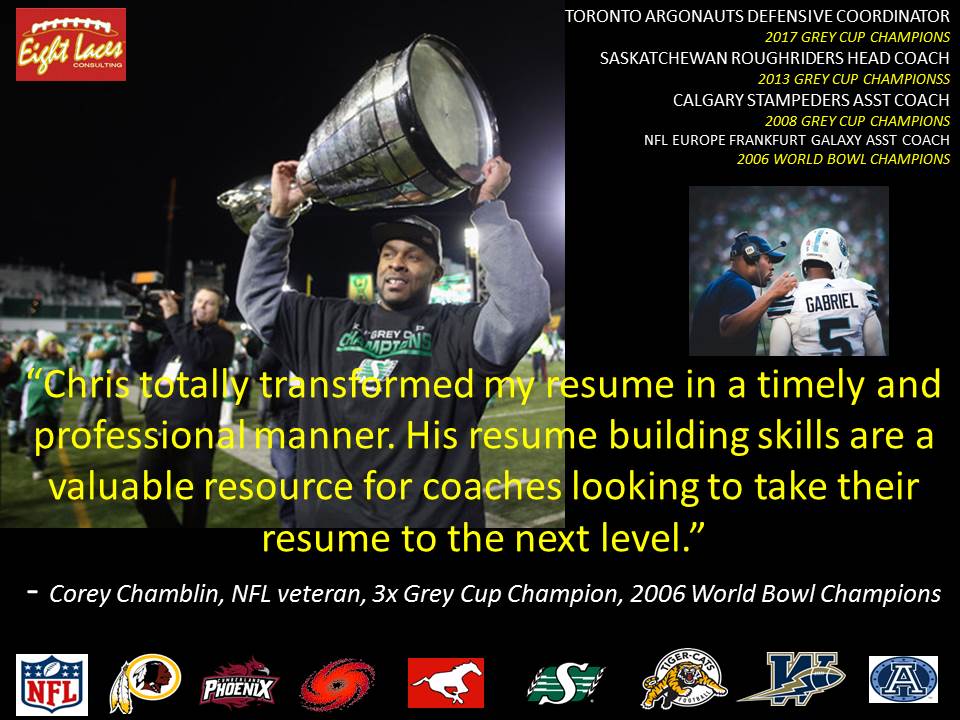 "When the right job opened up for me, I looked for the best support person I could find to make sure I would get an interview. Chris was able to help me organize my resume and supported me in producing an infographic that got my foot in the door. Thanks Chris!"  – Ian Shoemaker, Head Coach, Central Washington University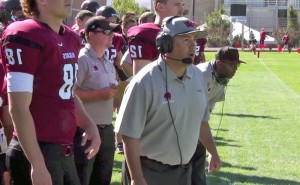 98% of coaches make the same TWO mistakes on their resume that are keeping them from moving to the top of the stack.  
Are you making these same mistakes on YOUR resume?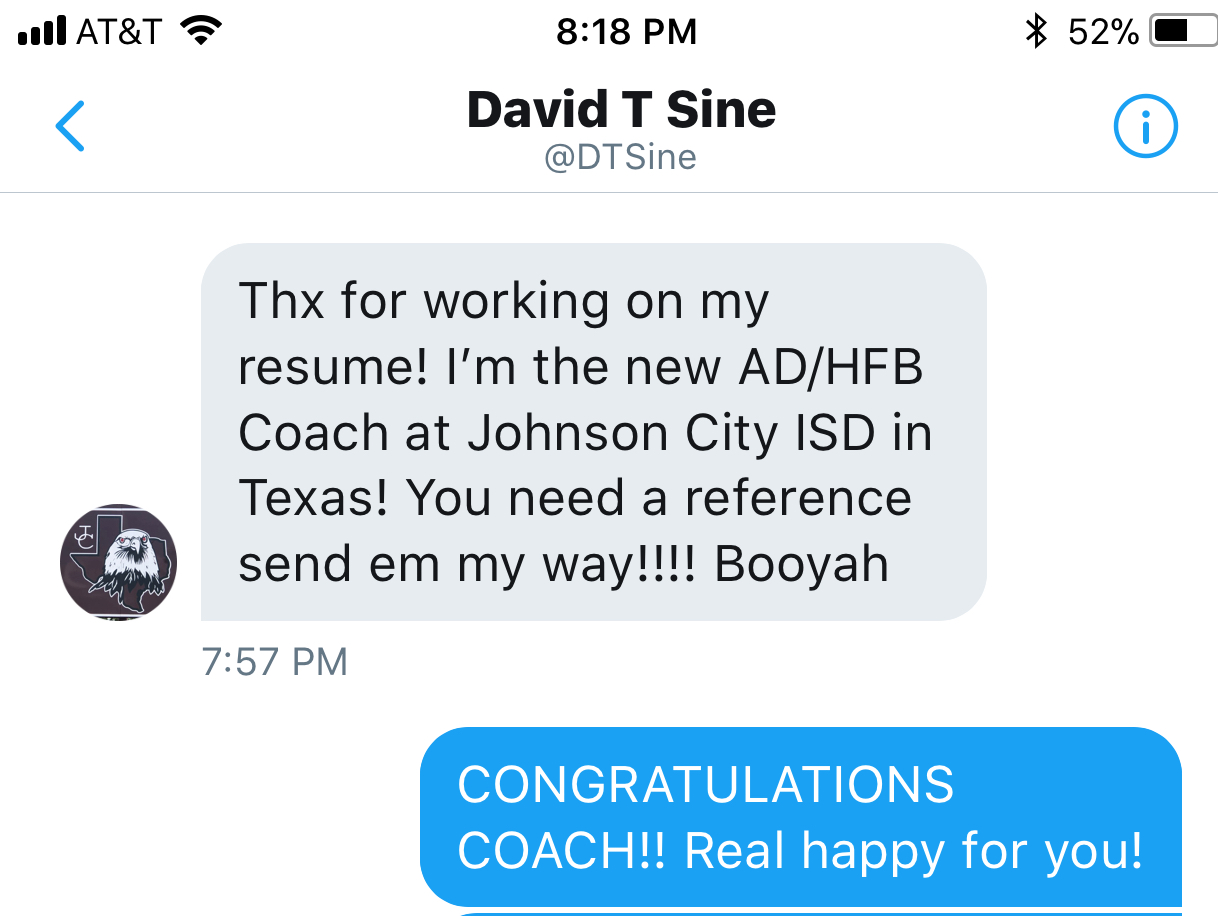 I specialize in crafting resumes in the area of athletics.  Are you looking for your first coaching job?  Or are you looking for your first HEAD coaching position?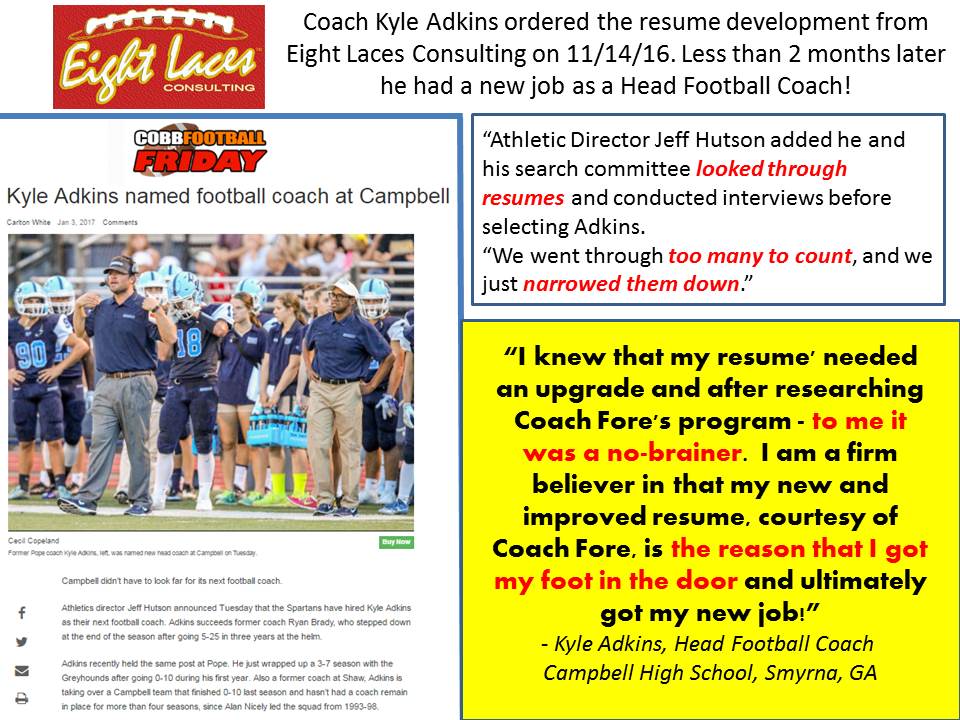 If the job you're wanting is doing a "paper hire" (one from paper, not word of mouth) then I can help you craft an eye catching resume that will get you from the hands of the Athletic Director or Hiring Committee in to the INTERVIEW pile instead of the NO pile.  How do I do this?  By creating a resume using a dynamic formula that 98% of coaches have never thought of!
         Your coaching resume can't look like your professional resume!  Most coaches don't understand this, and they don't understand why they aren't making it to the interview stage.
There are 3 options for you to purchase this Custom Athletic Resume Creation.
A. Standard 7 day turnaround – $129 (Buy Now)
B.  Red Zone 4 day turnaround – $159 (Buy Now)
C.  No Huddle 2 Day Rush – $199 (Buy Now)
And, previous clients who need assistance with updating resumes, go here.
Typical 7 Day Process
Day 1 – We receive order, and contact you.  Day 2 – You send us your current resume.
Day 3 – You get the first round draft back, we discuss the next steps that we use via a phone call.
Days 4 – 6 – You gather the needed information to complete the resume and send that to us.
Day 7 – You get your finalized resume.
"Chris did a great job on my resume. I consider myself a tech-savvy guy and the things he did with my resume were things I never though about putting on there.  While I am trying to move into the next level in the coaching tiers it is not easy, but I have received feedback from other coaches about how great it looks.  I am very proud of my resume and I am pounding on doors with it until I finally get the answer I want to hear. Thanks a lot Coach Chris!" – Joe Tuttamore, Assistant Football Coach, Ohio
"Eight Laces is a great resource for both veteran and young coaches!  Chris's resume format combines creativity, along with a detailed analysis that really helps your resume stand out…..Highly recommend!" – Dameon Porter, Head Football Coach, Leuzinger High School, Southern California
"Thanks to your advice and help in creating my resume, I've been hired as the Head Girls Basketball Coach at Westmont (IL) HS in suburban Chicago.   It took only 35 days from when you finalized my resume until the School Board approved my hiring!  Specifically, here's why I know you played an important role in helping my resume get to the "top of the pile": I had absolutely NO connection to anyone on the Search Committee (no one that I know even knew anyone involved)!; other than founding/coaching a youth basketball program, my last "real" basketball coaching job was in college 18 yrs. ago; the skills and experience that I possess were so clearly laid out on my resume…it's EXACTLY what they were looking for; the A.D. told me she NEVER has had any coach present a "First 30 Days Plan" (which you suggested) to her in 20+ yrs. in athletics.   I think it truly is a great fit for both parties!!  Thanks again!"  – Jeff Pearson
"I put together my own resume a few years ago, in pursuit of a DFO position. Nothing at all has
occurred, as far as getting past human resources or to the interview process. That's with experience and good references. I turned to Eight Laces and Chris Fore for help. He has turned my resume into a human resources dream with all my information on the first page, quick and easy to read, very informative. I can't wait to send it out.  Thanks Chris!" – Mark Matlock
"It had been 10+ years since I even looked at my resume, and lo and behold it needed a huge 'tune up'. I was applying for jobs this past winter and knew that I needed to upgrade and I sought out Coach Chris Fore as a resource to give my resume a major overhaul. I can say with confidence that Coach Fore had a huge part in my recent hire at Monrovia HS. He not only helped me revamp my resume, but gave it that 'pop' that most resumes do not have. Coach Fore took both my educational and coaching resume and rewired it to make it current and stand above the rest.  Coach Fore comes with my highest recommendation for any coach at any level looking to give their professional resume a face lift. If you want that edge going to your next interview, then contact Coach Chris Fore and allow him help you get that next job."   — Chris A. Stevens, Head Football Coach, Chino Hills High School, California
"Coach Fore did an amazing job with my resume, he did an outstanding job making it pop off the page and highlighting each of my achievements.  One could use a resume service, but those services do not offer the personal experience, nor the field specific knowledge that Chris offers. Having the eyes and mind of an Athletic director upgrade your resume is as valuable as it gets!" – Jeremy Sarina, California
"Having the ability to have an AD critique my resume was ano-brainer for me.  I don't have to worry if other coaches have a better looking resume now."  – Eric Mach, Texas
"It's probably not every day that Coach Fore is asked to do a coaching resume for someone yet to graduate high school; however, Coach Fore was very professional and helpful in creating me a fantastic looking coaching resume for me to send off in hopes of getting more experience on my resume, as well as to continue my new-found love – coaching. The resume is 100% different than any resume sample/template I could have ever found on Google. Coach Fore took what I said in a few sentences and narrowed it all down to a few bullet points, thus, only putting the key material that will pop out to those involved in the hiring process." – George Harvey, Florida
"BTW I sent in my resume to 2 schools and got responses from both schools, 1 within an hour and the other on the same day.  I couldn't be more happy with the job you did for me." – Jared Brookman
"I have been apart of some struggling programs and decided it was time for a change. I contacted Coach Fore not really knowing what my goal was or where I might land and in what capacity. Thanks to his ability to highlight what I could immediately bring to any program, I was able to land a job back in my home state (a long time goal), and at a school that is a perennial contender. I don't know where my search would have took me without Coach Fore's help, but I don't think I would have had the same opportunity." – Ryan Smith