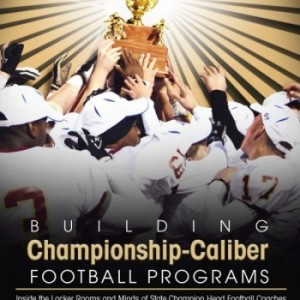 Building Championship-Caliber Football Programs
Every playoff bracket ends with one coach lifting the championship trophy, and countless others searching for solutions for how or why their program couldn't quite reach the summit.  Building Championship-Caliber Football Programs takes coaches where they've never been able to go before… inside the locker room of the most successful high school football coaches in the nation, and reveals top 10 characteristics of State Champion programs.
Coach, I am applying for my first head coaching position so this is a great read and the insights have been extremely helpful.  – Jeff (Dec 2, 2016)
108 State Champion Coaches Surveyed
From 42 States
Coach Fore reveals the top 10 Characteristics that these 108 programs have in common!
My publisher is selling these books for $29.95 plus tax and shipping.
If you purchase the book from me directly, the cost is only $18 + USPS Priority Shipping ($6.45) = $24.45!!