BUILDING CHAMPION-CALIBER FOOTBALL PROGRAMS
A comprehensive research project of the 2011 State Champion Head Football Coaches, and their secrets to success!
Come inside the locker rooms and minds of some of the absolute best Coaches in the nation.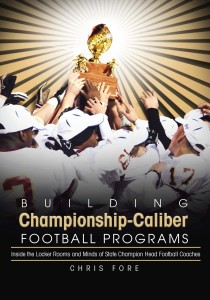 Building Championship-Caliber Football Programs:
Inside the Locker Rooms and Minds of State Champion Head Football Coaches
A UNIQUE, GROUNDBREAKING RESEARCH PROJECT
INVOLVING MORE THAN 100 STATE CHAMPION FOOTBALL PROGRAMS FROM 42 STATES!
Book Synopsis
Every playoff bracket ends with one coach lifting the championship trophy, and countless others searching for solutions for how or why their program couldn't quite reach the summit.  Building Championship-Caliber Football Programs takes coaches where they've never been able to go before… inside the locker room of the most successful high school football coaches in the nation, and reveals the key philosophies that make their programs rise above the rest.
Coaches at every level of sport, in every kind of sport, throughout generations, have always wanted to win the ultimate prize – the championship.  Coaches who tirelessly search for the formula, and the framework for building a championship caliber program will find this book a groundbreaking effort to set the stage for the next victorious season.
Author Coach Chris Fore, a veteran Head Football Coach and Athletic Director, surveyed the 2011 State Championship High School Football Head Coaches in a quest to create the most complete and thorough research regarding the philosophies of these championship programs.
Building Championship-Caliber Football Programs allows you to get behind the scenes of these programs to understand their methods and practices.  To learn how to build a championship caliber team, you must learn from championship caliber coaches, and that is what this book does.
The publisher is selling this book for $29.95 plus shipping and tax.
Buy it from me here for only $18 plus shipping!!!
Athletic success is not built overnight.  There are ten philosophies to a championship that Coach Fore has summarized in this book.  From months of correspondence with the best and brightest coaches in the nation, ten key philosophies emerged that form the backbone of championship programs.  These ten philosophies serve as the Leadership Lessons from some of the most highly regarded football coaches in the nation.
The purpose of this book is to give a blueprint to every coach, athlete, parent or businessperson who desires the absolute best for his or her team or organization. Coaches from Maine to California, from the heartland to the suburbs, all share how they became the best of the best.  Read in their own words what propelled them to victory.
What did they do differently from other programs in their league and their state?  
What piece of advice would they share with a coach who wants to win a state championship?  
What do these coaches consider to be the one most important aspect of their Championship program?  How were they able to develop this with their team?
The answers to these questions serve as the foundation for Leadership Lessons.  Read to find out how these teams incorporated these ten philosophies into their programs, and helped them to win the most coveted trophy in their state! By implementing the philosophies these coaches used to take their teams to the top, next season it could be your program that feels the exhilaration of lifting that ever-elusive championship trophy!
MEET THE AUTHOR
Coach Chris Fore is a native Southern Californian who has been coaching high school football for thirteen years; eight of those as a Head Coach. He is a Certified Athletic Administrator with the NIAAA and has earned his Master's degree in Athletic Administration. Coach Fore specializes in helping coaches with organizational management, program development, and career services.