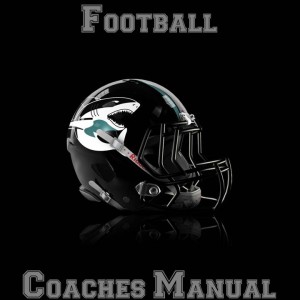 Raising the Bar: A Complete 12 Month Roadmap to Success
Are you looking for a road map to success written by someone who has been there and done that?
Are you a new head football coach, prospective head football coach, or perhaps a veteran head coach looking to change things up in your program?
Do you need help developing YOUR overall philosophy for running your program?
My Outside The Lines Coaching Manual has been a very popular tool for coaches nationwide. It's 100 forms and templates for coaches to use.  Many coaches have been asking, and demanding something JUST LIKE THIS!  A philosophical, "how to" manual.  Not just forms and templates, but the real nuts and bolts of HOW to run a year dynamite year round football program.  This is exactly what we are proud to provide for you now, in partnership with Coach Jeff Steinberg, a coach from California who has won more than 100 games, a rare feat!
This coaching manual, available exclusively right here at Eight Laces, is an instantly downloadable PDF document (97 pages) that includes the following:
(*This manual not available in USB format, just downloadable PDF)
1.  Coach Steinberg's Coaching Manual (see contents below)
2.  "Maximizing Your Program Powerpoint"
3.  FREE BONUS MATERIAL - Coach Steinberg's 2013 Santiago Football Year Round Calendar
CONTENTS OF COACH STEINBERG'S COACHING MANUAL